Donuts with Pastors - Resurrection Celebration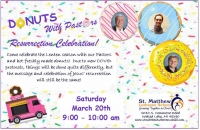 Event Location:
Walled Lake Campus - Back Parking Lot
Come celebrate this Lenten season in a very unique way with our Pastors and hot freshly made donuts! Due to COVID protocols, things will be done quite differently, but the message and celebration of Jesus' resurrection will still be the same!
Back By Popular Demand... The Detroit Mini Donut Food Truck! Come and join us on Saturday, March 20, at 9:00 a.m. to celebrate our Risen Savior. To sign up, please click HERE!
We hope to see you there for this delicious celebration!