International Friends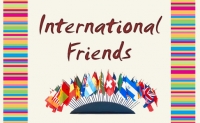 Welcome!
International Friends offers help and friendship to our international neighbors. All nationalities are welcome. We offer many classes and activities in easy English, especially for international adults and children. One of our staff members speaks Japanese, and we have the ability to translate materials into Japanese, Korean, German, and Spanish when needed.
All the staff and team members are eagerly waiting to welcome our new friends and see our old friends again. We are so happy you will be with us. Have you arrived in America recently? Do you need information or some kind of assistance to begin your life here? Please call at 248-624-7676 ext.115 if we can help you in any way.
2020-2021 Calendars
St. Matthew Summer Camp
We will not be able to offer the usual one week Summer Camp in June this year.  The COVID restrictions do not allow for a gathering of that size.
St. Matthew Family Fun Nights
This summer, St. Matthew will have a Family Night once a month.
They will be on Tuesdays:  June 22nd, July 13th, and August 17th from 5:30pm to 8:00pm. There will be food trucks, fun activities for the whole family, and some special events. More details will be posted soon.
Mark your calendars and save the dates!  We would LOVE to see you there!!!
2021-2022 International Friends Class Registration
We will have our 2021-2022 class registration information on our website sometime in July.  
We plan to have registration beginning, tentatively, August 16th.
Watch our website for more information.
We also plan on starting classes in September.
Easter Celebration 2021
Past Celebrations
Personal Help
Personal help is available for emergencies and special needs. Please don't hesitate to contact us.